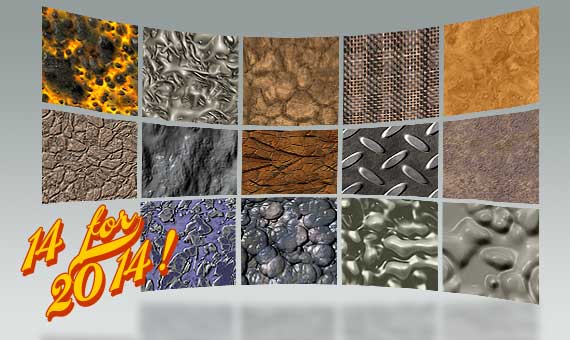 14 For 2014
by Gary Bouton (Gare online)
Gary wanted to give away a handsome collection of procedural textures that seamlessly tile when you fill a shape in Xara with them, but photorealism and a touch of organic quality seemed to be a fresh break from all the weird tiles he's given away in the past. So here it is: Fourteen textures for 2014. We bet you can't guess what the Giveaway will be for 2015! <grin>
To load these (and almost any JPEG, PNG, TIF or other common bitmap file type) textures into Xara's Fill Gallery so you can use them at a moment's notice:
In Xara, open the Fill Gallery. If it's not docked to the right edge of the UI, press Shift+F11 and there you go.
Make sure the textures you want available in the Fill Gallery are in a folder with a unique name such as "My Nature", or "Gare's fractals", and that this folder is in a location on your hard drive(s) that you never intend to move.
On the Fill Gallery's top, click the button marked "Disc Fills". You'll get a directory box you use to navigate to the folder. The box is labeled "Add folder to Gallery".
Once you've located your texture folder, double-click the icon so you're actually inside the folder and not outside with your cursor resting on the folder. This sounds stupid, but it's the deal-breaker when you want to add specific files.
Click "Add", and you'll get an attention box telling you this folder doesn't have a thumbnail index. Would you like one created for the file? Well, of course you would, you dumb attention box! Your choices are Create, Cancel, and Help, so it doesn't take a rocket scientist to figure out that unless you click "Create", you're not going to get these files loaded. Click "Create".
You now have a folder in the folder area of the Fill Gallery and double-clicking the icon expands your view so you can see all the thumbnails of the fills.
You can drag a thumbnail onto a page to copy the image to a document, or you can drag it over and drop it on a shape to fill the shape, and you can also rotate and scale the fill within a shape, but that's another story!
If you add files to this special folder in the future, you'll want to click the folder on the folder list of the Fill Gallery to select it and then click "Disc Fills", but this time, navigate to inside the folder and then click Update, not Add.
Happy texturing!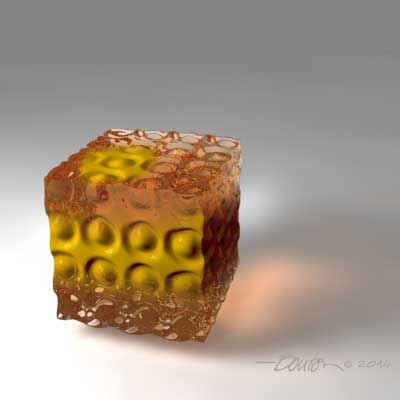 All Contents Copyright © 2014 Gary Bouton. All Rights Reserved. These files and any associated materials may not be redistributed without permission.
Gary David Bouton has been drawing with traditional tools for almost 40 years, and with digital tools such as Xara for close to 20. As large a fan as he is a practitioner, Gary encourages others to express themselves artistically through his writing, the over 25 books on graphics he's had published, through the videos and tutorials he creates for The Xara Xone, and through his online school, Exclamations. You can send him some email, visit his personal website, or better yet drop on over to the Xara Xone Forum on TalkGraphics and talk to Gary and the rest of the Xara community.